Christmas In Byron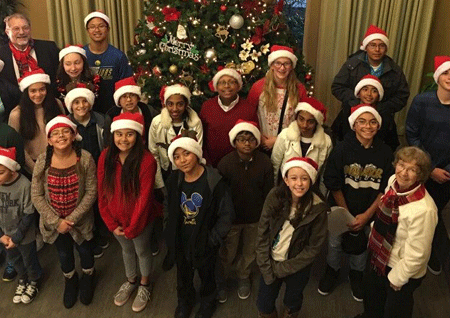 Hang on for a minute...we're trying to find some more stories you might like.
  When Christmas comes along in the small town of Byron the people of the Hosie avenue try to keep the Christmas spirit alive. The residents of Hosie Avenue tend to make sure that their place lights up with Christmas spirit.
  Emily May Byron resident goes to say "Byron is a small town though I do like to set up decorations and makie seem alive this time of year." May adds "Though I do set up for every other holiday one way or another Christmas is when we try to hit it big."
  May goes to explain her decorations " See this year I set up lights all around to blink on and off and change to different christmas colors and I put up little props of santa and reindeer around my house." May finishes saying " Though I did feal did do good this year I also feel that Rathi Mukherjee and Victoria Castillo did an amazing job decorating too."
  Going to Rathi Mukherjee the second of the decorators says "The reason I myself set up decorations is to make our street light with life." Mukherjee adds " I make sure to try my hardest this time of year because I just enjoy trying to put spirit on our street."
  Mukherjee explains what he did for decoration " See I put a plastic christmas tree and have lots of lights going around it and around the props and the props I did was a santa and reindeer."
  Mukherjee finishes saying " I truly cannot wait to see what everyone else does this year it is always a pleasure seeing what comes around." Rathi finally says "Though you may know this but me,Emily,and Victoria play a little game when it comes to decoration and I always look forward to see how it will end."
  Victoria Castillo or know as Tori the last one of the Byron decorators goes to say "It is true I do in fact seem to decorate a lot when it comes to holidays but Christmas is when everyone tends to decorate a lot more." Tori adds "Also you might know that Me,Rathi, and Emily are really one of the only who decorate."
  Tori goes to explain her decorations " This year year I got light to make fin designs, I got props with lights on them, and this little electronic box with lights." Tori goes on to finish saying " I do love this time around Byron I wish it was like this more often.
  This time of year in Byron the people of Hosie put up their decorations in an attempt to spread christmas spirit in Byron.