Raffle Tickets and Cream Cheese: Heritage's Academic Breakfast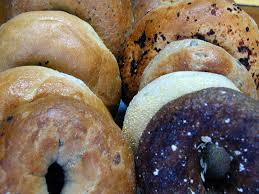 Hang on for a minute...we're trying to find some more stories you might like.
Bright and early on November 15th Heritage honored our academically advanced students with certificates, raffle tickets, and even breakfast in our gymnasium.
These academic achievement ceremonies are held once or twice a year on the morning of a PD day to acknowledge students who maintain their grades and exceed school expectation… the goal being not only to recognize, but to inspire others to work harder.
Mr.Lonaker and Mrs.Sneider planned and hosted the event that morning with the mutual agreement that recognizing students is rewarding and effective.
"I believe that many students strive for academic excellence to reach their own potential, not for public recognition, but getting to be celebrated can be a positive experience for students and parents as well," stated Mr.Lonaker.
"It's fun to see you and your friends get recognized for keeping up and maintaining their grades," said Kolade Ogunfunmi (10)
Maisie S. (9) looks at it this way: "…anytime an award is involved the chance of someone putting in more effort is inevitable. It will definitely inspire a few."
Maisie later went on to say that for some people there is simply a lack of effort and those who lack effort normally don't believe working hard is "worth it." In other words, bagels and cream cheese might not be the right incentive for some struggling students.
Teleola Onepede (12) shared her belief that "It [what inspires people] is personal for each person. I maintain my grades so that I can improve and learn new things, not so that I can attend a ceremony."
"I think kids get good grades for college. The breakfasts don't really inspire them," said Fiona Valadez similarly (11).
Both Fiona and Teleola were invited to the ceremony on November 15th, but for various reasons chose not to attend. The bleachers of the gym were speckled with a couple of students that morning, but most, like Fiona and Teleola, didn't attend.
"My friends say they'd only go for the food. A lot of people were missing and it seemed like the parents were more excited than the students," said Karen Siapno (10) Karen also recalled that at one point a proud father ran down the bleachers excitedly to receive the fanny pack his child had won in the raffle.
Many offered their thoughts on the matter of how these ceremonies can be improved for the student body: Karen says that if they were at lunchtime instead of the mornings they would be more effective, while Fiona believes recognizing improving students, rather than just advanced ones, might boost morale.
"Good advertisement is essential", said Maisie, "I never even heard about the ceremony!"
Kolade though, as a hard-working AP student, admitted that "a way for students to take a break from school to relax" during the school-day sounded much more appealing to him than a Heritage apparel raffle prize or a free bagel.
"We're hoping to be able to incorporate more students in the celebration by including improvements in attendance and academic growth for the fall 2017 semester," Mr. Lonaker.
Despite any future improvements made in the event itself, Mrs.Sneider believes that academic improvements start within each student. In other words, success is a choice!
"Each patriot needs to find something within themselves that motivates them academically. The challenge is not to compare yourself to others but with yourself."
Regardless of how the ceremony can be improved, it's safe to say that students and staff alike are looking forward to any potential alterations in how advanced and improving students are recognized here at Heritage High School.