Guys and Dolls Jr.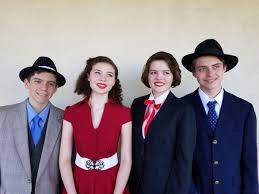 Hang on for a minute...we're trying to find some more stories you might like.
   Innovation in technology has led to movies and television taking over the entertainment business leaving traditional entertainment out to dry but many have chosen not to forget the theatrical musicals put on to give the audience a first hand experience with live actors/ actresses.  
  One local company was founded to keep the theatrical entertainment business in Brentwood, the Brentwood Teen Theater. The Brentwood Teen Theater was co-founded by Steve Kinsella, who is also the director of the play.
   Kinsella's first ever musical job was conducting Guys and Dolls with Heritage's own theater teacher Mr. Fallows playing one of the lead roles Nathan Detroit.
    Guys and Dolls is a musical comedy classic about rolling the dice and falling in love under the lights of Broadway. The musical is also known for its multi-award winning achievements; winning the Tony Award and The Nobel Prize for drama.
   "I think this show, like all those I try to present at the Brentwood Teen Theater, shows us people, even a hardened gambler or host of a floating crap game, are still capable of change," said Kinsella, on Guys and Dolls Jr.
   To re-create a show that will live up to the standards of the Broadway musical, a lot of time and hard work is put on such a successful production with teenagers.
   "I challenge actors to the standards of professional actors…setting the bar high so then they rise to the occasion," said Kinsella.
   With hard work comes great reward; the cast of Guys and Dolls Jr. got to enjoy such a magnificent production that they worked so hard to put on.
   "The show was extremely positive, I loved the character I played, and there are so many good parts of the show that it's hard to pick one," said Aidan Schoch (11) a junior at Heritage who took on a lead role as Nathan Detroit for his first show with Brentwood Teen Theater.
   "It was such a positive environment and me practicing helped me take on the role," said Zach Zaragoza (9) who is very familiar with the Brentwood Teen Theater taking on his 5th show as Sky Masterson.
   "It was a little intimidating at first but became easier as we went on," Zaragoza goes on to add.
   Overall, Guys and Dolls Jr. was a hit bringing people from all over the Bay Area to watch the great show.
   The Brentwood Teen Theater's next show is Beauty and the Beast coming to the Resurrection Ministries this April!