Martin Luther King's Lasting Impact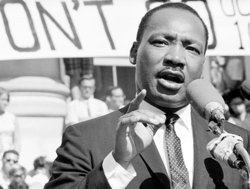 "Free at last, free at last, thank God Almighty we are free at last," said Martin Luther King Jr. to end one of his most renowned speeches, "I Have a Dream."
     Martin Luther King, notably one of the most famous civil rights activists in history, has undoubtedly created an incredibly remarkable impact on the world, even 52 years after his death.
Born on January 15, 1929, in rural Georgia, King lived among a family of low-class sharecroppers in a poor farming community. He grew up in a very religious household, as his father, Martin Luther King Sr, was a pastor for their local church.
King experienced first-hand the harsh realities of racism growing up, and attended segregated schools his entire childhood. However, King was a gifted child and rose above much racial discrimination he faced, to attend Morehouse College to study law and medicine.
King continued to further his education to earn his Bachelor of Divinity degree, and was elected president of his predominantly white class in college. He pursued the strengthening of his faith and became a minister, helping to later found Southern Christian Leadership Conference, an organization dedicated to peacefully protesting for equality for African Americans.
King worked to travel across the country, holding speeches and preaching nonviolent protest to achieve their civil rights goals for the African American community.
On April 12, 1963, King was later arrested for participating in a peaceful boycott against discriminatory and unjust hiring methods. He wrote "A Letter From Birmingham Jail", a revolutionary move against white clergymen that defended civil disobedience.
Despite the criticisms and consequences he faced, King continued to preach his beliefs. After his release, he refused to back down against the racial discrimination and lead the March on Washington, an incredibly important event for the Civil Rights movement.
During this event, King gave his most famous "I Have a Dream" speech, calling for equality and peace. His speech sparked hope for African Americans to continue fighting peacefully against the unjust discrimination they faced.
Unfortunately, King was assassinated on April 4th of 1968. This unexpected event stood as a symbol of the death of their hope for future equality and peace, as all their efforts seemed to prove useless. His dream would seemingly be nothing more than that.
However, people soon recognized the importance of using his death as even more of a motivating factor to achieve their civil rights goals, and to help keep his dream alive. Many African Americans continued to apply King's peaceful practices and protested in a civil manner.
After his death, Ronald Reagan signed a bill in 1983 to honor King's life, making his birthday a federal holiday.
"Martin Luther King Day is a perfect way to honor his incredible impact in African American history. He fought hard for our equality and deserves to be remembered for centuries to come," says Adanna Ihenacho (12).
"MLK Day is a decent way to remember King's life, but we hardly learn about him in school anymore, even during Black History month in January. In order to honor his impact, I think it is important to help our younger generations remember him by learning more about him in school," believes Ethan Delgado (12).
Society has progressed significantly since King's time, and even though racism is still present in today's world, the African American community has achieved what King has always wanted.
"To keep King's dream alive today, society needs to continue to fight for peace and equality. Our community refuses to settle for any less," according to Marcus Beaureau (12).
King has done so much for the African American community, and his legacy must be remembered as long as our country still stands.