Australia Fires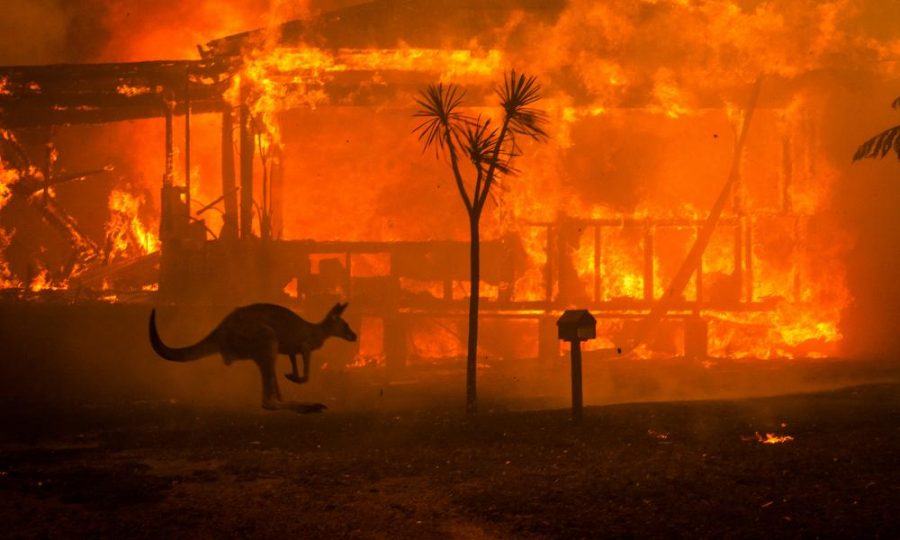 Australia is being ravaged by the worst wildfires seen in decades. The country is struggling to contain these massive blazes, even with firefighting assistance from other countries, including the U.S.
A total of 28 people have died nationwide including 4 firefighters , and in the state of New South Wales alone, more than 2,000 homes have been damaged or destroyed entirely.
There has been fires in every Australia state although New South Wales has been hit the hardest.
The blazes have torn through major large cities such as Sydney and Melbourne. Earlier in December, the smoke was so bad that the air quality measured 11 times the hazardous level.
South Australia has also suffered. Two people and an estimated 25,000 koalas were killed when flames devastated kangaroo island in the state of South Australia. The island is renowned for its unique mix of animal species like koalas, kangaroos, and birds.
Experts have expressed concern of the survival of the endangered species on the island. Which include the dunnart, a mouse like marsupial, and a black glossy cockatoo.
" I always wanted to travel to Australia to see the unique animals over there and now since the fires are happening I do not think any tourists will come anytime soon," said Helena Kostre (11).
The Australian capital Canberra has seen the worst of the smoke pollution, with air quality rated the third worst of all of all major global cities on January 3, according to Swiss- based group AirVisual.
" My aunt and uncle live in the capital of Australia and my family checked on them they said they have to go because the smoke is extremely bad that they can not breath," said Felix Dominguez (11).
Humans are sometimes in the blame for starting fires, although they are also sparked by natural causes, such as lighting striking dry vegetation.
Once fires are started other areas are at risk by the wind causing blazes to spread to new areas.Bush fires themselves can also drive thunderstorms, increasing the risk of the lighting strikes and further fires.
Scientist have warned that a hotter, drier climate will contribute to fires becoming more frequent and more intense. Many parts of Australia have been in drought conditions for some years, which has made it easier for the fires to spread and grow.
" I think climate change has the biggest part of the fires beginning, I don't really know how bad Australia was before the fires but now people, actually the world has to do something about it because it can easily happen in California," said Ryan Nazir (11).
Australia broke its all-time temperature record twice in December. An average maximum of 105.62 Fahrenheit was recorded on 17 December, broken a day later by 107.42 Fahrenheit, beating 2013's record of 104.54 Fahrenheit.
Australia is going through something so unbelievable. Millions of people and animals are in danger, if you would like to help you can donate to https://www.redcross.org.au/news-and-media/news/your-donations-in-action.