Dribbling Into Season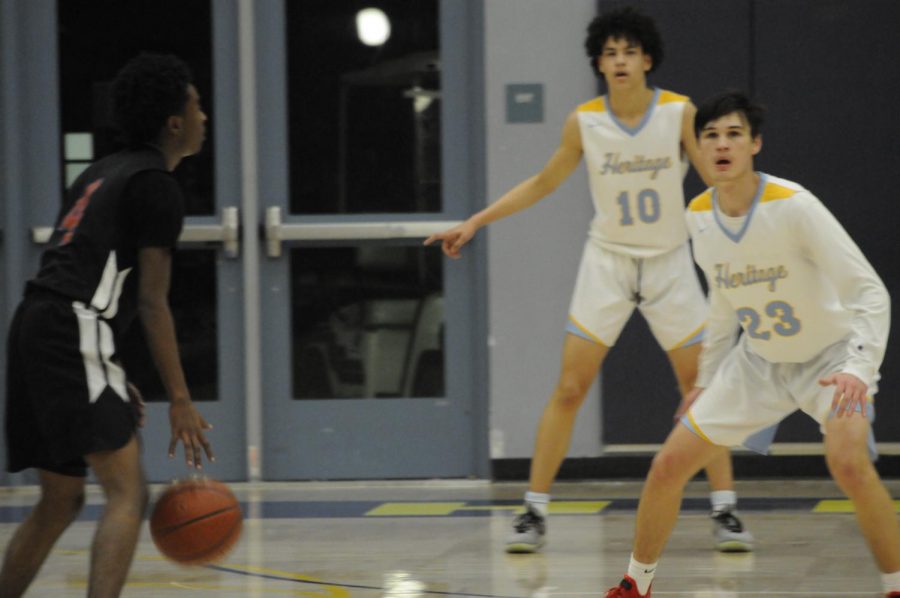 Basketball season is upon us and tryouts are causing nervous knots in players stomachs. This week is full of competitiveness that will be served on the court for a chance to secure their spots.
There is a striking difference between how tryouts are ran for the boys and girls teams. Boys basketball tryouts go for 5 days but this year they are extending it to 6 days because of the turn out between the 3 teams.
Girls basketball tryouts go on throughout Monday through Wednesday. Even though there isn't much time to make very critical cuts it still gives the coaches lots to think about when tryouts is going on.
one student taking on the week long tryouts is John Mackay(11). John has been playing basketball for Heritage ever since freshman year and has loved it since. "I get a different vibe when I'm on the court and that's what really stands out about why I love playing this sport so much…," says Mackay.
"I've taken so much time over the summer to perfect my shot… for three weeks all I worked on is vertical drills so I could perfect it…," says Mackay.
Makcay is very nervous for when the lists come out this year because there is so much good talent.
Another student who takes on the week long tryouts is Isaiah Hinds(11) also is ready to take on this next week as well as competing with his other upper class men.
Hinds has been playing basketball for 9 years and has been on Heritage's freshman, Junior Varsity, and hopefully Varsity these past years while attending heritage.
"The only thing that I'm worried about is all the boys who have worked so hard to get to where there at and it not pulling them through tryouts…," says Hinds. Hinds has been working and perfecting his layup for tryouts as well as footwork.
"Tryouts week is probably the most stressful part of the first two quarters in my opinion because they send people home everyday until they have a group that is polished to please the coaches… I feel it always sucks knowing you can easily be one of those guys too…," says Hinds.
With boys tryout starting Monday and continuing through Saturday, all the boys are anxious to know who can put it all out to secure a spot. On the other hand girls basketball tryouts take place Monday through Wednesday.
Some might feel there is not enough time to make very critical cuts, but coaches take a lot into considerations when tryouts are going on.
Julie Ramirez(11) explains how there 4 year varsity point guard graduated last year and the fait is in her hands to be as perfect as she was.
"There's a lot of pressure on me and the team this year especially since we got NCS swept from us last year… there's many freshman and sophomores that have set the stacks high for themselves and I'm hoping to see if we can see how strong they are with past players," says Ramirez.
"I always feel this certain way when I step on the court, there's nothing else in that moment that's more important then what the team wants to accomplish in that hour and a half other than winning and having fun doing it…," says Ramirez.
"I want the newbies coming in this year matching the energy the team has and having fun doing it," says Ramirez.
As basketball tryouts are near both teams have to raise the bar, match the energy, find the tempo, and to secure there spots.