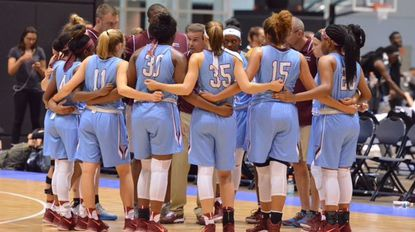 Run,Throw, and Shoot. Basketball brings friendship and teamwork that can be a stress reliever, this connects girls together and gives them another family. They have team ice breakers to create an untouchable bond that can be seen on the court.
"During practice we usually talk about our day to be up to date with each other," mentioned Abby Doxie (10).
This helps by being able to communicate and build teamwork. When someone does not know what to do, the team will press pause and get everyone on the same page.
Doxie mentioned when they do not win a game the team always has one another backs.
"We always have each other's backs, we got each other, we are a family," said Alaina Ahrens (10).
The teams give small prep talks to motivate each other and the seniors tell their teammates that even if they lose that they are a team.
"We lose together and win together," stated Ahrens (10).
The players stated that basketball helps them to get away from school life. It directs their mind's elsewhere, to create a place where their worries are gone. It is a positive atmosphere to be in.
"It gets my mind off things, whenever I start to feel stressed. Putting it on the court makes me feel a lot better," stated Jocelyn Im (10).
To set forward before a game, many players have different rituals. Doxie listens to music to keep her mind clear. Before a game Ahren's team does a dance to get ready and get their hearts pumping. Im listens to music also to get her mind focused so that she is ready for the game.
"11, yea that's the year one of my best friends passed away, she got in an accident very brutal accident" mentioned Doxie.
Doxie revealed how the number on her jersey means a lot to her. Doxie makes sure that her friend is with her anytime she is on the court and in her heart.
When you look at someone who is playing on the court it's easy to forget that is more than just a game. For these Patriots, basketball is about friendship ,hard work, and patience. The team has a bond that cannot be broken and work together through whatever life may throw at them.