Heritage Thespians take on Ashland
Hang on for a minute...we're trying to find some more stories you might like.
The annual ashland trip is a great way for students with a shared interest in Shakespeare to experience theater outside of high school. The event has been going on for several years now, set up by the Heritage HIgh school theater teacher, Mr. Fallows and the Rising Stars. The event is centered in the town of Ashland, Oregon, where Shakespeare is an interactive topic.
    From shows, to sets, to everything in between, those who attend the festival participate in fun interactive Shakespearian history and gain insight on costuming and set design. Ashley Shiro, a senior who has attended for many years, stated,
"I liked the modern twist on the Shakespearean masterpiece through the set and the costumes," said Shiro.
   While there we attended 4 shows with prologues for 3 we also attended a theatre workshop with some of the professors from the OSF ( Oregon Shakespeare Festival) company. We also took a guided tour of the entire campus used by the theatre company to put on plays.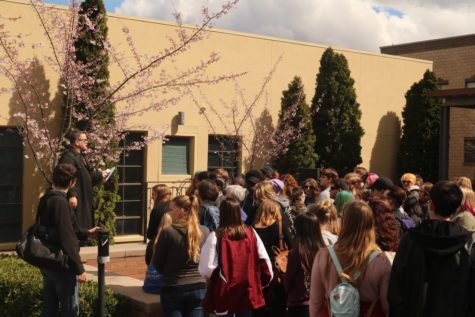 The first show we saw was Julius Caesar it was a fun modern twist on the historic play. After the show we did a one on one with one of the actors. We asked him questions about the making of the play and how they prepare. The actor, Barret O'Brian, even showed us how to do the dance like fight sequence.
"It was fun seeing the fight scene interpretation broken down into simple dance moves. We all stood up and Barret taught us how to do it," said Colby Reyburn (10).
Next we saw Mojada, A Medea in Los Angeles, this show really touched our hearts and made us reconsider the way we interact with others in order to better ourselves. The one on one with an actor afterwards was very solemn and serious "What was the mindset backstage while putting on such an impactful show?" type of discussion.
"We asked the ushers to wait a while after the lights went down at the end to start letting people out because we understood that the audience would be in a state of shock and might not be ready to step out of the world we created immediately," said VIVIS, a main actress in Mojada.
Our third show was Shakespeare in Love, the fictional story was not written by Shakespeare, but about him. It was about him falling in love while writing Romeo and Juliet. We did not have a one on one afterwards.
   In between the shows we attended prologues which gave us background on what we would be watching and also what to specifically look for in the plot development.
The workshop we attended was very educational for keying into using our Pathos, Logos and Ethos receptors. It showed us how to understand what these do to to readers and how to use them in persuasion.
     The Ashland trip is a great experience for Shakespeare lovers and newbee theatre students wanting to learn. It also teaches students an array of things about the history, and upbringing of modern theater.