Prep for Pep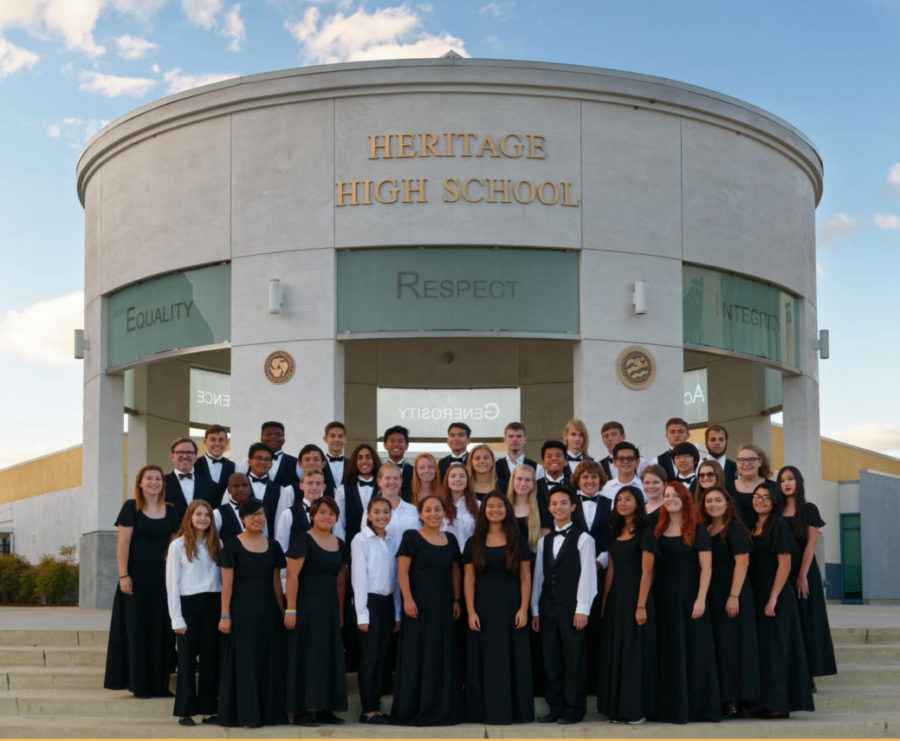 The football team is not the only ones preparing for this year's game season. Heritage's band rooms, filled with students of all four grades, buzzed with the news of new songs and games for the next four days of Band Camp.
The 2017 Pep Band season started off with an exciting announcement from Pep Band Leader Samantha Dutcher (12) about new modern music that is to be played this year.  The new songs will be played during this season and the band is excited to showcase them for the crowd. Many band students were excited for songs like Feelin' Myself and 24k Magic, Dutcher and several others worked many hours composing and copying in order to get around 170 packets completed for the new band! The new music has made sure that freshman are not the only ones working on memorization this year. However, the upperclassmen of the band found this only a minor downside as they walked into the first day smiling and joking.
A.J. Tinio (12) recalled his freshman year and first camp,
At first I was hesitant about going, but I have now seen how fun it is. My favorite part has always been getting to know the different people in my section."
Many other upperclassmen share the same thoughts. John Luke Penecerrada (11) spoke of band camp with much excitement,
"I enjoy it so much! It's one of the first things I look forward to when I start school".
Oddly enough the camp began without a single instrument being played. Instead the students were sorted into groups and they played games and got to know their sections and fellow band peers.
After a day of fun the camp turned more serious with the deadline of the first varsity football game approaching.  Section leaders took their groups across the campus and worked with students of all ages in order to get the music prepared for this year and make it even better than last.
The following days were full of intense work and memorization as students raced to meet the audition deadlines for pep band. Band council also was on their feet the whole time as they raced around to make sure all students had music and knew what they needed to know. Making sure everyone understood the importance of the new music and learned it as well was also a monumental task.
This past summer Dutcher and Tinio worked together to find new music for the year. The two, with a few helping hands, spent hours searching through MuseScore for songs and writing out music parts for the whole band. Heritage's Wind Ensemble became the guinea pigs of the new music but once it was approved hundreds of copies were made and passed out to the rest of the band. Their ultimate goal? To make this year even more fun than last year and play music that the Heritage student body wants to hear.