To Victoria's Secret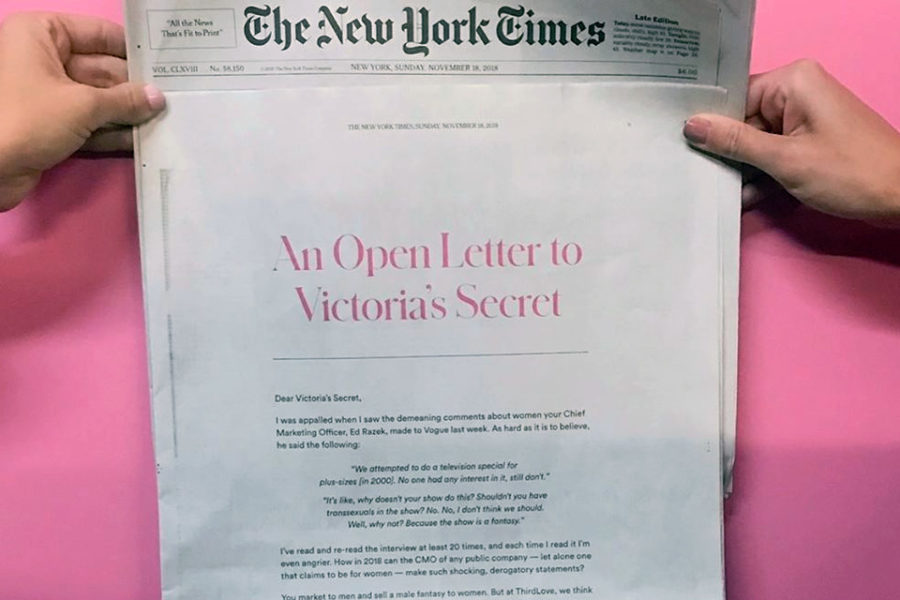 Recent comments made by Ed Raznek, the senior creative officer for Victoria's Secret, have fueled the burning controversy swirling around the lingerie and beauty company. When asked why being inclusive is a last priority for the company, Raznek described that his brand is a "fantasy" — evidently a fantasy where he believes plus-size and trans models do not belong.
   "We attempted to do a television special for plus-sizes. No one had any interest in it, still don't," said Raznek in a Vogue Interview.
  "It's like, why doesn't your show do this? Shouldn't you have transsexuals in the show? No. No, I don't think we should. Well, why not? Because the show is a fantasy," he continued.
  These comments have ignited outrage. Many celebrities and brands have responded with passion and distinction, among them including Halsey, Rihanna, youtuber Nikita Dragun, model Geena Rocero, and even a letter from ThirdLove, a company that deems itself the "antithesis" of Victoria's Secret.
  The co-CEO of ThirdLove, Heidi Zak, wrote a moving letter, making it impossible not to question why people support a brand that makes a point to exclude those who are different. Zak proposed the question, "Why does a brand portray the so-called "fantasy" of women, rather than the reality?"
  In today's day and age, representation is key. Representation restores self-confidence and ensures that being imperfect is beautiful. So although the "fantasy" Victoria's Secret sells daily to women has worked, I, along with every celebrity and brand listed previously, believe it is time for a change.
  In fact, I find myself wanting to follow suit; Wanting to write my own letter. So here goes everything…
Dear Victoria's Secret,
  My name is Rylee Cagle. I am sixteen years old. I am not trans, nor am I plus-sized. I haven't had to endure many trials in my life, let alone the discrimination that trans and plus-sized women have had to endure on their own. Yet, despite the fact that I haven't been directly affected by your company's inequity, I'm still keen enough to understand the terrible and drastic implications of your "beauty" standards. I recognize the appeal of your so-called "fantasy"; However I have one of my own, and it reaches far beyond the parameters of your brand image.
   My fantasy is a world in which every single person can see themselves represented as beautiful. A world where flaws and imperfections are celebrated; In fact, where flaws are realized to not be flaws at all. A world where a company like yours can empower women– no matter their gender identity, size, or imperfections– rather than lead them to believe that their reality will never live up to your "standard." If you don't mind me saying so, and quite frankly even if you do, I believe my fantasy will have far greater impacts once its seen through than yours ever will.
   When I look at my body I'm most often critical and unkind, and I am only sixteen. Sixteen! Victoria's Secret, imagine the impact your brand will have on young girls and women around the world once you allow women who are like them to represent your brand of beauty. Self-confidence and acceptance will soar.
   So I implore you to simply try. See what happens when you represent all, various kinds of women as what they are: beautiful. Not for me, but for every girl and woman who thinks she's not enough. For every woman who believes she isn't beautiful because she doesn't look like your models. Realize your impact, Victoria's Secret. Act on it, and you won't only change your brand, but you'll also change the world.
As Heidi ended her letter: to each, her own,
Rylee Cagle
  As I end this article, I want to encourage any reader who felt this article resonated with them to write their own. A spark can become a flame, a flame a fire. Heidi Zak's spark inspired me, but I believe we can create a fire and change the representation of beauty in society.