Girls Tennis Upcoming NCS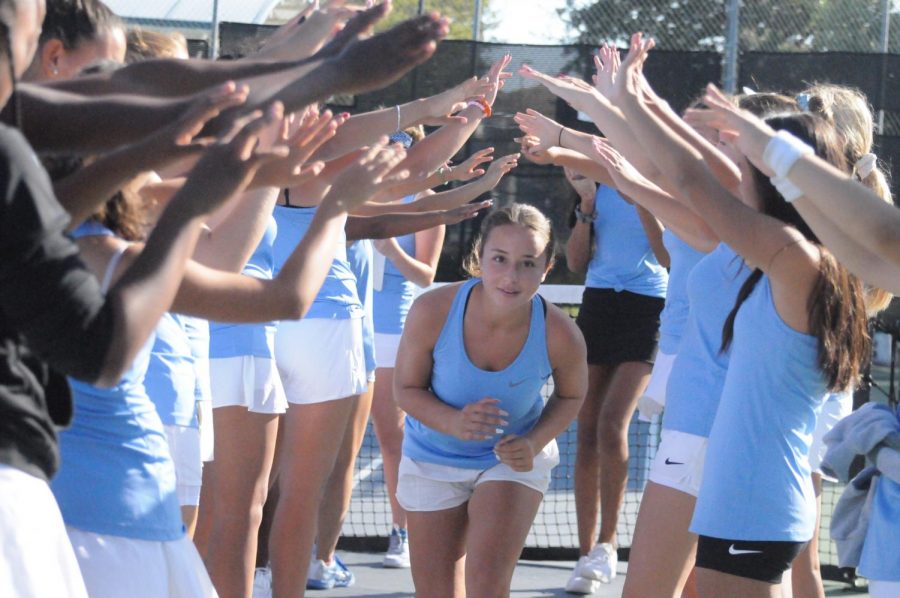 NCS- the match everyone in the North Coast works and looks forward to the most during season. It's the final match where you can showcase everything learned and improved on all in those few matches.
     About 160 high school tennis teams from all over the north coast region, will battle it out starting November 12 to see who can secure a victory and advance to the CIF Nor-Cal Tennis Championships. The girls Heritage Tennis Team has never been able to secure an NCS title only making it as far as round two.
     " I feel like in this upcoming NCS match we are more confident and together as a team than the years before, and I do believe that we have a very strong chance at winning NCS," said no. 1 doubles player Alyssa Durant (11).
     The girls tennis team were able to win first place singles and doubles in BVALS following NCS.
     " We have all worked so hard as a team and supported each other which I think is what led us to win all these games against the other high schools around us. And because of that support I'm positive we will make it far in the NCS matches" said no. 4 singles player Manpreet Kaur (11).
     One of the most challenging parts about tennis in general is overcoming nerves and the fear of losing- something all the girls have worked hard during this season.
     " This is my first year playing in NCS but I don't feel that nervous because of the amount of matches I played during this season. I'm actually excited to play more challenging players, but if I happen to get nervous during a match my team notices and will cheer me on, making me feel a lot better," said no.1 singles player Erin Crane.
     Winning NCS has been a dream of the girls tennis team ever since they started playing with the team. The final match where everything from this season counts the most.
     " Winning NCS is important to us because it will show us that we have improved from our doubts, our confidence, skills, and the ability to clear our minds during the match. It will be a reward for all the hard work this team has put in during and off season," said Durant.
    NCS is not just a championship game to these girls, it is a chance to make a legacy and show that the Heritage girls tennis team can overcome any obstacle that stands in their way.
     Good luck Heritage High school girls tennis team!