The New Take on Thanksgiving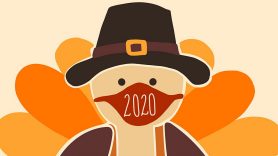 The holiday season is fast approaching and the colder seasons are now amongst us. However, with COVID-19 cases heading on the rise once again; what will that mean for the traditional large family gatherings for this year's Turkey Day?
   California State Governor, Gavin Newsom, has released word regarding the traditional festivities of Thanksgiving, and how they must be cut short with restrictions to prevent any further spread.
   These restrictions consist of no more than three households, including hosts and guests, and must be held outdoors, lasting for two hours or less. Any type of singing, chanting, and shouting is also highly discouraged by the CDPH, California Department of Public Health, along with wearing masks at all times besides when eating or drinking.
   Although many are not happy with these restrictions, to be able to open California back up, Newsom finds these mandatory for the season.
   Many Californians have stated that they are not going to listen to these restrictions and still host their normal Thanksgiving dinner. Twitter was piling up with comments from people who bluntly state that they will not be following the guidelines Newsom has established.
   Yet, it is hard to say if the people will listen to the California Governor, concerning his recent attendance of a party in Napa. The incredible amount of backlash coming his way comes from communities that state that Newsom isn't practicing what he is preaching.
   Nevertheless, by still planning to host a Thanksgiving dinner, as it may be tempting to just want to have a normal gathering with loved ones, it can also harm those in families that are prone to catching illnesses or even can spread COVID-19 amongst their family to a larger extent.
   Especially now with over a million cases in California, it is important that these restrictions are set and followed through with residents in all counties. From the unbelievable situation that everyone is going through right now, it is hard for everyone. However, implementing these restrictions can allow an entry back to normalcy, as all Newsom is trying to do is avoid more cases to skyrocket.
   So, if by chance your family or someone you know will be hosting such a gathering, please let them know the repercussions of safety if they do. Since at this point across California it should not be an afterthought to save lives from COVID-19, but be a priority to keep, not just yourself but your family safe this holiday season.