How COVID-19 Has Affected The NBA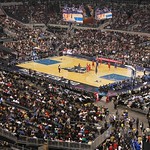 It was a chilly March morning over a year and a half ago when the NBA suspended the season. The suspension came on the morning of March 12th, 2020 after the Utah Jazz star duo Donovan Mitchell and Rudy Gobert both tested positive for COVID-19.
   Ever since that day, the NBA has looked a lot different. The league was completely shut down, not a single game was played until the season returned in August. The NBA opened up a "bubble," a group of hotels and arenas set in Orlando, in order to quarantine players.
   For 3 months, players and staff remained isolated in their hotels, only leaving for practices and games. Multiple COVID tests per day and intense restrictions were set by the league.
Richaun Holmes of the Sacramento Kings was quarantined for 10 days after ordering from Doordash. NBA veteran Lou Williams left the bubble to attend a family event. He was caught on Instagram at a club in Atlanta, enjoying some chicken wings and company.
   The in-game experience in the bubble was far different as well. Fans surrounding the court were replaced with screens. Crowd noises were pumped into the stadium. Because of this strange environment, some unlikely performances happened.
   TJ Warren, a role player in the normal NBA, looked like one of the best players in the league. The entire Miami Heat team surpassed all expectations. The effect of the bubble, however, was greatly overrated by NBA fans. Some fans even claim that the Los Angeles Lakers championship from this format shouldn't count, or should have an asterisk next to it.
   "I feel like people would count the ring if the Heat won because they don't like seeing Lebron win," claimed Aalyan Shaikh (12). "They try to make any excuse."
   The following season and a half have had its fair share of drama as well. At one point, the Philadelphia 76ers played a regular-season game with only 7 players on the roster.
   One notable story has been the absence of Brooklyn Nets' superstar Kyrie Irving. The Brooklyn guard refuses to receive the vaccine. Irving has been known to be a spiritual individual, often burning sage around the court floor as a pre-game routine.
   However, New York's restrictions prevent Irving from attending home games due to his vaccination status. The team decided to suspend him from all games until he gets vaccinated. Months into the season, Irving has refused to budge. Brooklyn hasn't made any moves to trade him to a potential team with lighter restrictions. Some fans are in full support of Irving's decision, while others have shunned him.
   "I support his decision," said Mathew Daniel (12). "If you don't want it then it's your body your choice."
   The NBA has been strict for the most part with COVID. If a player was exposed to COVID, they are put in a 10-day protocol, where they have to be quarantined from the team. This routine has been made mandatory for all players since the bubble. However, after Lebron James was put into the protocol, he was reactivated one day later.
   Perhaps an instance of superstar treatment, James claimed to have received a false positive test in Sacramento. He took 8 tests in the following day and a half, all coming back negative. This procedure should be enough for any other player to get out of COVID protocols, however, this only applied to James.
   "He definitely did get an exception. He's their money maker- you know how that works," told Julian Hernandez (12).
   James returned to the team and played the very next game. Since this event, no other player has been able to replicate what he did.
   Over the last year and a half, the league has looked far different than it ever has. With seemingly new COVID news daily, the light at the end of the tunnel is still uncertain. With a new COVID variant, the league could face even more challenges in the future.