RED Friday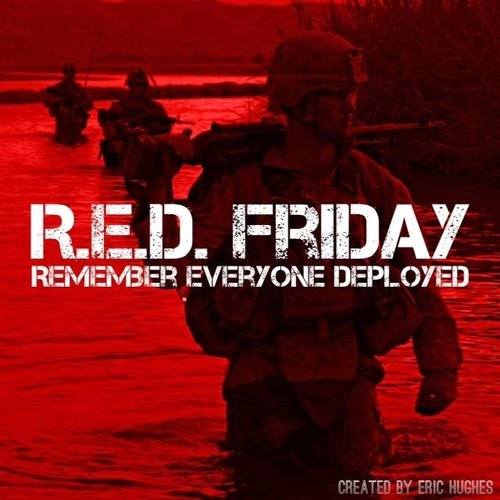 Hang on for a minute...we're trying to find some more stories you might like.
Every Friday students at Heritage High show school spirit by wearing blue, white, yellow, or even all three, known as "crazy patriot". These spirited Fridays not only bring the students to a special, unspoken camaraderie but also show support for school activities, such as sports. As a school, spirit days act as a glue to connect students and teachers alike, however, there is another special day to be "celebrated" every Friday.
RED Friday or Remember Everyone Deployed Friday first began in 2005 from a small group spreading awareness for, not only those deployed but the veterans that are present in the United States. Since then, the event has received much more recognition, but enough when compared to other weekly celebrated events.
When they come "home" most veterans are faced with life questions, such as: what will I do now? Or even where will I live after this? In the year of 2014, there were nearly 50,000 homeless veterans, making up over 8 percent of the homeless population in the US at that time. Despite the decrease in number since 2009, many homeless and struggling veterans are still out there. For the great people who have fought for the the US's freedom, these numbers still are staggering even when compared to the rest of the homeless population percentage. This poor awareness and care for our veterans is what has caused these high numbers and the reason why the day was created.
"I pray for those that have been deployed to go fight and protect our country. I also salute to those that have died protecting it (the US) and for those who have returned from the front lines," said Sean Pasamonte (10).
Today, with conflict on the rise and more soldiers being sent overseas, support is needed more than ever. Every Friday, Americans around the country can show support by wearing red.
"You will soon see a lot of people wearing RED on Fridays," stated Soldiers Angels on their article "Where Did RED Friday Come From?"
Knowing this, it gives another way students can unite through a spirited Friday. Patriot Pack Friday is practically a tradition at Heritage and in no way shall be replaced or dropped entirely. However, wearing red this Friday and the next one and so on, will give the awareness deployed soldiers and veterans deserve. Armed with this information, any student can share the awareness needed for our veterans and active soldiers.
This Friday, when picking out your Patriot colors to wear at school, consider RED Friday. Wearing red on Friday amidst a crowd of blue, white, and yellow may not seem like a substantial amount of awareness but every little bit counts. Every little bit of help for not only our soldiers, but our whole country, counts and in the future the numbers will turn substantial. RED Friday is just one of the instances people can help others and their country. For it was John F. Kennedy who once said, "And so, my fellow Americans: ask not what your country can do for you—ask what you can do for your country."