Turkey Trot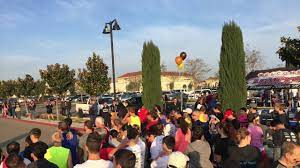 Since 2014, Brentwood has been making its efforts to support the health of the youth in the LUHSD school district. The 2021 Brentwood Turkey Trot has just finished in the Streets of Brentwood. Runners from ages four and up were able to make donations and participate in the 5k run on Thanksgiving morning.
   This year a virtual option is accessible to those who may be covid-cautious. With this option participants have a larger time window to run or walk the 5k wherever they please. This is a great option because it is still encouraging those to donate even though they might not be able to go in person. English teacher at Heritage High School, Mrs. White, happily participated in this year's event.
   "I have participated seven years, but really only started being serious about it this year," said White. Mrs. White knows why it is important to participate in these type of events
   "Well I think it's important to support because you're not just supporting the schools, you're supporting, really, a much bigger issue and that is a young person's health overall," explained White.
   Mrs. White said she never had any fears of COVID as some may have.
   "If a person has any concerns, then certainly virtual is better than not at all," White advised. She did however make use of the virtual option last year.
  LUHSD superintendent Eric Volta is proud to be a part of the event that helps so many of the youth in the community.
  "The Turkey Trot has very quickly become a Brentwood Thanksgiving tradition for families. It is the perfect fundraising activity being that it is a fun and healthy family activity that raises money for fun and healthy activities for students." stated Volta.
   This is a great opportunity to create a change and  improve on oneself as well.