The Perfect Friendsgiving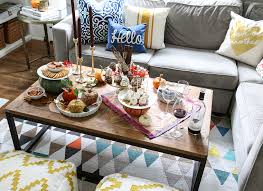 Hang on for a minute...we're trying to find some more stories you might like.
With Thanksgiving break coming up everyone is making plans to see their friends and one of the best ways to do that is to participate in Friendsgiving. This is a time of thankfulness food and stress if you're hosting a Thanksgiving.
It seems simple at first but with all the factors that go into planning this event you may feel yourself get overwhelmed with all you have to do. To aid you I have composed a list of things you should consider keeping in mind while planning a Friendsgiving of your own.
Time for Yourself. Set your date way ahead of time that way your friends and you can prepare for the festivities with ease. This is not a last minute deal.
Let em' Know . Make a sign up sheet if you need to but make sure you have people making the dishes that need to be present.
Snacks (for the people not the people). Assign the most reliable of your friend group hor d'oeuvres. Finger foods need to around so people are not annoyed while food is still being prepared and heated. No one likes a hangry crowd.
Beverages. Seasonal cider and sodas are just fine and if that is too overwhelming get some help. The second most reliable friend can help provide.
Presentation. It's a Friendsgiving so make it look like one! Take time to decorate not only the table but the room it is in. Make the environment fall themed to encourage the Thanksgiving spirit. Use pumpkins, brown leaves, ceramic turkeys, and the whole shebang!
Surroundings. To further help the environment add background noise. This can be a movie or a playlist anything works. No one wants to hear the repetitive clanking of forks against a plate when the food is being throughly enjoyed or conversation dies out.
Follow these steps in order to create a successful Friendsgiving. Allow yourself time to eliminate stress, plan foods and entrust them to reliable people, and create an environment that is cozy and fun. With all the work you've done your friends will have a blast and enjoy. Happy Friendsgiving!