Brentwood on Ice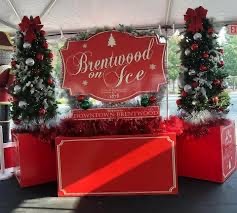 Glide through the New Year at the Brentwood On Ice skating rink as the holiday season is all about making memories with your loved ones.
   Opening day of Brentwood On Ice was November 19, 2021, however it will be open until closing day, January 9, 2021. Admission prices are fifteen dollars, this includes 90 minutes of skating and skate rentals.
   On Monday through Thursday the rink is open from 12am-9:30pm. However, on Friday's-Sunday the skating rink is open from 10am-9:30pm. The ice skating rink will be open on Christmas Eve and Christmas day. On Christmas Eve the rink will be open from 12am-9:30pm. On Christmas day the ice rink hours are from 2-9:30 pm.
   Tickets can be purchased on site with cash or purchases online. Snacks and locker rentals are also available with cash.
The ice skating rink is located at 739 2nd St., Brentwood. Free parking will be available in the Brentwood parking garage.
   Ice skating has been a holiday favorite for some at Heritage high school.
   Ava Costenbader (12) likes to go ice skating because she enjoys getting into the holiday spirit, as the holiday season approaches.
   "I like to be in an environment where everyone is having fun trying their best to skate on the ice even if they aren't good at it," explained Costenbader.
     Locally, in Brentwood student's have found ice skating as a way to connect with those they cherish to bring in forever lasting holiday memories.
"I enjoy going ice skating because I like hanging out with friends, getting to spend quality time with close ones, while drinking hot cocoa is great," stated Gabby Branner (12).
   Ice skating can be a great way to introduce magic into your christmas season. Adding holiday favorite events can make your holiday season special.
   "I like it with my friends because it is a fun thing that friends me that it's Christmas time," stated Samara La Roche (11).
    Bring some pizazz into your holiday season by going to a local skating rink this year. While ice skating may not be everyone's favorite holiday event, it can be a great way to make some new memories.
   For more questions and information you can contact the Brentwood on ice phone number: (925) 516-7664 or visit their website.