A Love For Music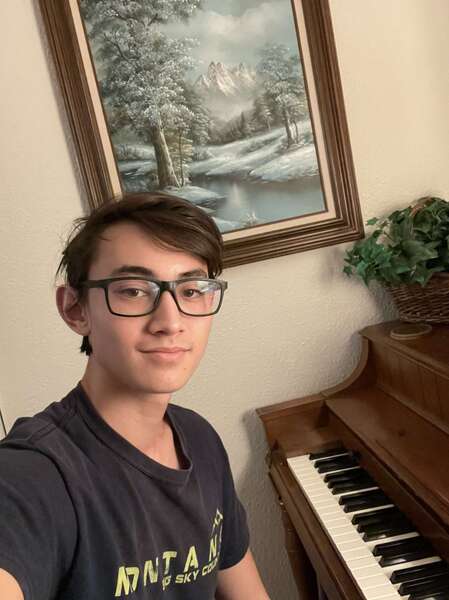 Music is his passion. Sahn Cannon (11) has been playing music since he was 7 years old and over the years he learned how to play a variety of instruments. How many you ask? With piano being his main instrument, Cannon knows how to play an impressive total of 18 instruments. He is also very involved with the Heritage music programs, being part of Varsity Drumline, Jazz Band, and the percussion for the Wind Ensemble.
      Cannon did not take music seriously until high school came along, when he realized this is what he wanted to do. Having a struggle with communicating his emotions, Cannon fell in love with music after discovering that he could use it to express himself. He feels that through music he has learned many things and he loves the challenges that it consists of.
   "I have a really hard time expressing myself and my emotions, but with music I feel like I am able to express true emotion and at times it is frustrating because what I want to express I can't actually perform it, which is a struggle of many musicians, but it is definitely a challenge I enjoy," explained Cannon.
   Most people stick to one instrument, but Cannon did not. He wanted to learn multiple instruments to see which one was the best for him, jumping from piano to bass guitar to drums and so on. Another big reason was that he wanted to be knowledgeable about a large range of instruments. It also, of course, gives him more opportunities in the music world.
   "One of the good things that kept me learning new instruments was that I could go virtually to any gig because I could play anything, enough to perform. I also enjoy it, it's nice to know how to play a large variety of instruments just in case I or someone else needs it," claimed Cannon.
    Cannon has recently decided to focus more on piano, where he now practices about 4 to 5 hours everyday. He created an Instagram about 2 months ago for his music, @sahn_the_cannon, to keep himself motivated to practice, where he made the promise to post himself playing every day for the next 1,000 days. He started with 0 followers and now has 900 and hopes to reach 1,000 by the end of the year.
   "It's good to have a social media account with followers because it is something that makes you feel better about yourself and personally, it has allowed me to become more comfortable with sharing my music with others," said Cannon.
   Once reaching a higher number of followers, Cannon plans to create a YouTube account so he can post bigger projects. He loves music and everything it offers, but not wanting to push away his loved ones, he hopes that he can both pursue music professionally and be with them. He also hopes that one day he can feel better about his music and become more confident with himself as a player. After high school, he wants to go to a college with a good music program, with his ideal schools being Berklee College of Music or University of California, Berkeley.