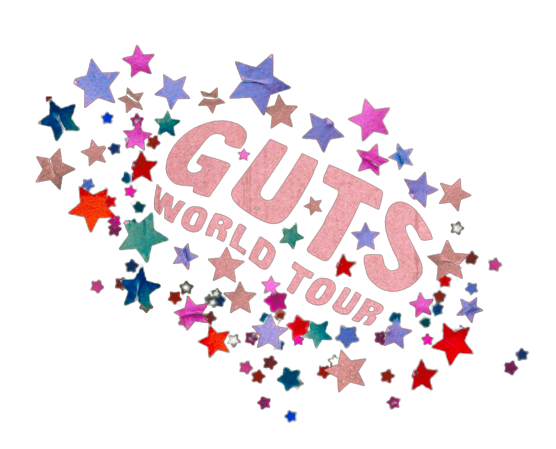 Olivia Rodrigo's most recent record "Guts" is a phenomenal album that solidifies her place as
one of the most talented and authentic artists of our generation as this is her second album to
reach billboard charts number 1. Rodrigo released the album on September 8th 2023, as her
sophomore album. With her vulnerable lyrics, powerful vocals, and diverse musical styles, it's a
must-listen for all teenagers.
   Rodrigo opens the album with a punk energy feel from the beginning track title "all-american
b****." She starts out her voice and instrumentals very graceful but shifts the moods to a rock
tonality once the chorus hits. She generates the feelings of an angst-filled teenager in the song by
the sounds of her screaming to an immediate switch back to the same graceful melody to
effectively get the audience to relate to the feeling of 'one second you're fine then another
second you're not'.
   "We see her descend into shrieks, before plastering on an angelic smile to insist, I'm grateful
all the time," said Teen Vogue.
   One of the standout tracks on the album is "the grudge," a beautifully raw and emotional ballad
that highlights Rodrigo's vulnerability as a songwriter. She perfectly captivates the melodrama
emotions that come from a brutal heartbreak. The lyrics cut deep, and her delivery is simply
breathtaking.
   "The song reflects the struggle Olivia faces, torn between feelings of deceit and conflicting
emotions," said Genius Lyrics.
Although the album as a whole received outstanding reviews, the 11th track on Guts, "pretty
isn't pretty" , struck controversy as she had an almost identical message about physical
appearance insecurities from a track called "jealousy, jealousy" on her previous album "Sour".
The similarities are widely noticeable but nevertheless was a sublime piece to the album.
   "'Guts' opened with the equivalent of 302,000 sales in the United States, according to the
tracking service Luminate — a hair better than Rodrigo had for the opening of 'Sour,'" said New
York Times.
   From record breaking publicity her previous album "Sour" got, as expected, Guts received the
same amount of exposure and has been a smash hit sensation with the media. It was featured all
over well known magazines, such as People, Vogue, Rolling Stones and more. I highly
recommend young adults to give this album a listen because Rodrigo's talent will more than
likely shock you.