World of Items Closing For Good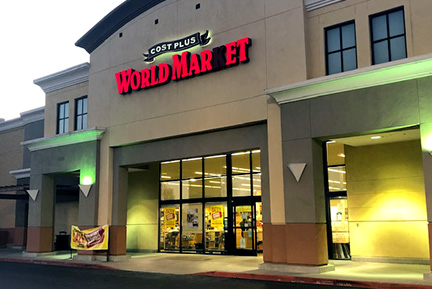 Hang on for a minute...we're trying to find some more stories you might like.
The end of an era has officially arrived, but no one thought this day would come so soon. Cost Plus World Market is closing its doors at the end of January.
  Cost Plus World Market has been located right next to Barnes and Noble and Bed, Bath, & Beyond. World Market has been located on Lone Tree since the shopping center was opened many years ago.
  "I've been going to world market for years. Its my favorite place to go for christmas decorations and different foods that you can't get anywhere else because they are from different parts of the world. It's a special and unique store that isn't like anything else in Brentwood," explained Tom Dalldorf, World Market enthusiast.
  It has been the place many want to go and see the extravagant but affordable items from all over the world, but why the sudden closure? World Market Company Representative, Jill Osaka, has been saying that it's because of the lease ending and the company not wanting to renew the lease.
  "Due to the lease expiration, we are closing the Cost Plus World Market store in Antioch, CA," stated Osaka.
  World Market has always been the place that people get to shop their heart out and get the most unique items, so the Brentwood Community has become heartbroken over the news of their doors closing.
  "I was sad when I heard its closing because it's one of the only places I can get certain spices, so I don't know what I am going to do now that its closing," explained Hannah Sparaco (12).
  With the closing of World Market in Brentwood, if someone still wants to shop there, they have to shop online or go to Walnut Creek or Concord to get the same deals. Some are seeing the closure as a big inconvenience for the community.
  "I've always loved shopping at World Market, but I don't want to drive all the way to Walnut Creek or Concord. It's out of my way and I don't have time for that," says Sara Shafi (12).
 Brentwood has lost a great store that many love shopping at. There's still the question of why? World Market won't renew the lease. Last November, Casa Grande World Market also closed and Osaka also said it was because of lease ending. Why not renew the lease? Is something not being told to the public about the future of World Market or is it really just because of leases ending?
  When asked Osaka about the Casa Grande store being closed, her only response was its lease ended.
  "We continually evaluate real estate opportunities to open new stores to offer our guests a unique and affordable shopping experience," stated Osaka.
   There's many questions that no one knows the answers to, so the public is just left wondering, what is the future of Cost Plus World Market going to be? All the public knows now is Brentwood has lost a great store that will be missed by many.