Oakland Raiders to Las Vegas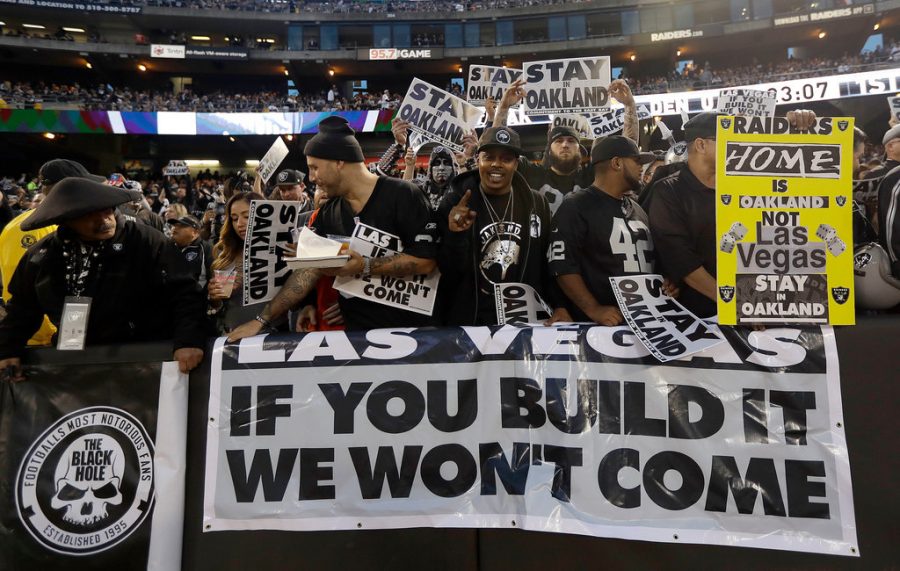 For years the Raiders have played in Oakland and have become the symbol of Oakland but now are set for a move to Las Vegas, Nevada. Currently, the team is finishing a final season in Oakland at the historic Coliseum and fans are enjoying the last moments of their beloved team at what many fans call home. The Oakland Raiders are set to move to Las Vegas and play in a palatial $1.9 billion stadium that seats 65,000 and has a clear view of the Las Vegas strip.
"I'm not a fan of the move. I think it was just a stunt for them to gain more fans and make more money, but it's sad that I will probably never see them play again in real life," Commented Jack Wedoski (11).
The Raiders have moved many times before, from Oakland to Los Angeles, Los Angeles back to Oakland and now Oakland to Las Vegas. Each move has been for the same reason being the need of their own stadium and has left the Oakland community to adopt the Raiders as their own for years but now that is being stripped away from them. The Oakland Raiders will always live within the people of the bay area but just won't be the same.
"I'm not a huge sports fan but I do like the raiders and I like that they are a very local team for us. The fans are really fun to watch we truly do have an awesome fan base," Said Isabella Allred (12).
A lot of fans in Oakland have disagreed with this move but are excited about their own stadium. At the Oakland Coliseum, the Raiders and the A's baseball team share the stadium but if the raiders move the only good thing would be that they have their own stadium leaving Oakland fans devastated.
"I think it is ridiculous because it is a pure business move with no consideration for the fan base which is one of the most loyal fan bases in the league. Even when they left LA in the 80's they came back eventually because of the fans. I'm still gonna support the team but I will never wear any 'Las Vegas' Raider gear only Oakland," Stated Anthony Bassi (11).
Some fans are willing to adapt to the change and the whole of Las Vegas is very excited to have a team to represent them.