A Familiar Face Takes Over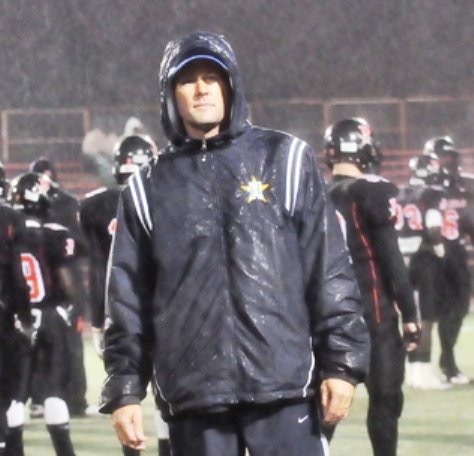 For any coach in sports, the transition into a new program is the first major test in their new job. 2020, a year like no other, adds a whole other level to that test. For new Heritage High School Head Football Coach Dave Fogelstrom, the unprecedented time contributes to an unprecedented transition this season.
   "The biggest challenge has been figuring out how to develop athletes without a specific schedule or start date, plus keeping them motivated for months on end. Training for a season typically is structured in a specific way with weight training peaking right before you start and then an 'in season' program. Following the COVID protocols has also created difficulties as it relates to trying to get an offense or defense structured and working together when you are limited to training in PODS," said Fogelstrom.
   While coaching during a pandemic is new ground for him, coaching football in general is not. Accepting his first coaching job with Antioch High School in 1992 as the quarterbacks coach, Fogelstrom has lots of experience coaching in the Bay Valley Athletic League. In his second stint as coach at Heritage, the first of which as a quarterbacks coach,  Fogelstrom is excited for his first shot at a head coaching job. Teaching at Heritage since 2005, he is very familiar with what it means to be a Patriot.
   "I have been at Heritage since the day it opened and have watched it grow.  I understand the school culture and know the students.  I always wanted to teach and coach at the same school and now I have that opportunity.  Both of my own kids went through Heritage and were varsity athletes.  I know what it feels like to be a parent of a Heritage athlete, a coach, plus a teacher who has athletes in his class.  This gives me a great well-rounded perspective of our athletic programs," said Fogelstrom.
   Taking over a recently rebuilding program, a culture change seems to be afoot. Former Patriots head coach, Don Sanders, was with the team for 6 years before resigning after the 2019 football season. With such change often calls for a culture shift in a program. For that to happen players need to buy in, and Heritage football players seem to be "All In" with Coach Fogelstrom.
   "The biggest thing I wanted to get across to our players was that you have to be committed to this team and the process. Our t-shirts have 'All In!' printed on them and it is not just a slogan.  There is an old phrase that the harder you work, the harder it is to give up on something.  Our kids are working incredibly hard and they are not going to give up. They are far too invested in this season to not see it through. I watched a starter walk off the field and quit two years ago here during practice and that left a lasting impression on me.  It was far too easy for him just to walk away.  I never want to see that mentality from our program's players, so we start with being 'All In' and then go forward from there."
   With a new program identity, the Patriots seem to be as motivated as ever to compete. While the looming pandemic might have other plans for this season, Heritage seems to be in great hands for the future with Head Football Coach Dave Fogelstrom at the helm.