2008 Alumni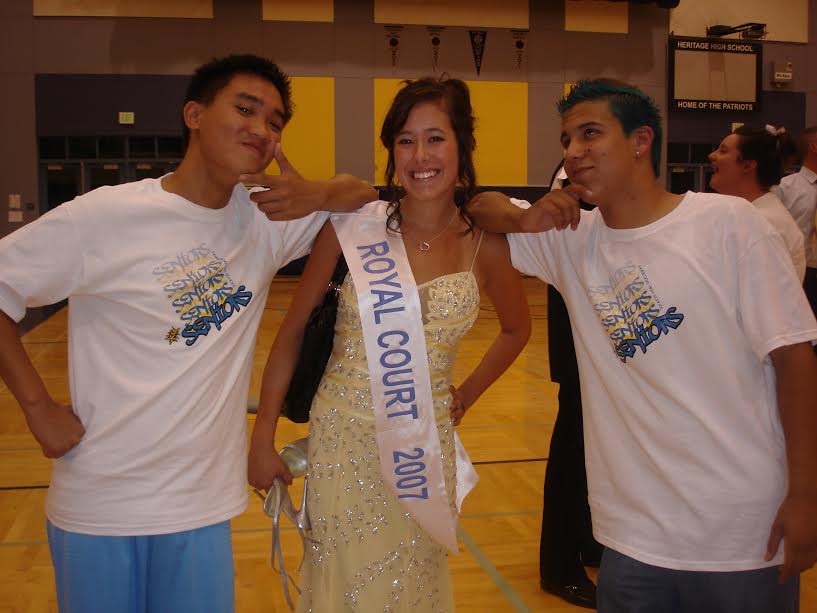 Since Heritage High school opened on August 1st, 2005 drastic changes have taken place in the world of teenagers. The halls of Heritage have since been filled with girls going for drastic side bangs and eyeliner, boys wearing backwards hats and sagging pants, to girls with large amounts of MAC makeup, boys with holey jeans,and everything in between.Yet through it all the school has stood strong, full of pride, welcoming and open to all.
  "My class was really small and there was a family feel about it. Everyone seemed close and I think we defied a lot of high school stereotypes on cliques. Also the fashion was kind of hilarious… lots of experimentation with MAC makeup… can't say that was the highlight" says Ali Ward, Heritage's first ASB president.
  Ali Ward and Kelvin Pham (both pictured above, Ward on royal court and Pham to the left of her)  where both a part of the first graduating class of 2008. In that time both students learned many valuable lessons that helped shape who they are today, and got them to where they stand.
  "Don't be afraid to try new things, you wouldn't know if you actually did like or did not like something without at least experiencing it. Connect and stay connected with your friends, you do (or at least I did) stay close with a lot of friends who I know will be there for a long part of my life. Lastly, remember, in high school, it feels everything that happens is an end all-be-all, but in reality, you have a lot of time/schooling ahead of you. Try not to get caught up in the small things" is the advice Pham offers current students.
  Taking high school with a grain of salt seems to be the best way to put it. Remembering that drama now will not to dictate your job, love life, or future is key to being able to relax and actually enjoy high school. Heritage also offers us many life lessons in ways we don't even think about.
  "Heritage provided me with a solid foundation of confidence to go out and meet new people in college. The "adult world" can include a lot of the same things as high school: You wake up, go to school or work, and then fill the time outside of it with other activities, friends, and family. Obviously, adult life has a lot more responsibilities, but the responsibilities come with a freedom of choice that is really amazing. After high school, I felt pretty prepared to maneuver social situations and make a future plan and execute it," says Ward.
  As the upcoming classes of HHS it is up to us to carry out the positivity and morals that the class of 2008 left in our hands. Enjoy the time that we are the ones walking in the Heritage halls and bringing life into the classrooms.
  "One of my best memories about Heritage is that the students were so inclusive and truly had the biggest hearts, so my advice would be to keep that tradition alive. It is important to know that little actions go a long way you should take the time to listen and be there for others. High school has its fair share of drama and high emotions, but it goes by very quickly and it is important to learn to be present with friends and family," Ward gives a food for thought.
  In honor of the first HHS graduating class, I encourage all to spread love throughout the school. Break the molds, forget the cliques, and fully relish in what is offered as your high school experience.