Winter Rally 2019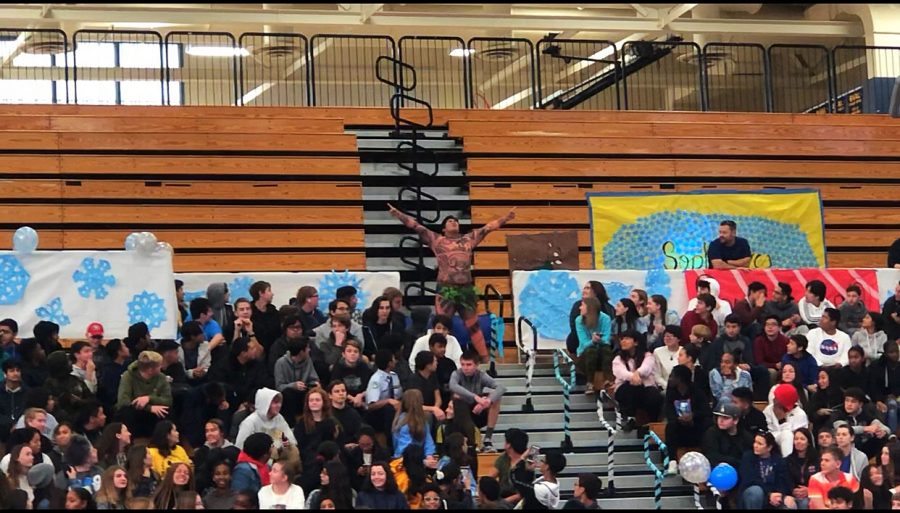 On December 6th, Heritage High School held the annual Winter Rally. Filled with holiday themed games, exciting performances, and school spirit. This rally being even more special with visit from Averie. the little girl Heritage had raised money for her Make-a-Wish to Disneyland.
With the fundraiser Heritage had put on, we managed to raise eight thousand dollars for Averie's Make-a-Wish. Almost meeting the goal of ten thousand.
One of the major highlights of Winter Rally had been performances of "How Far I'll Go" from Moana performed by Kayla Cordill (12) for Averie. As well as a performance of "You're Welcome" put on by Vince Pena (12).
With performances from our schools cheer, dance, and hip hop team. Showcasing lively stunts and dances. All of the performers putting on their the best for the rally.
"Performing is one of my true loves, I love the felling of being in the spotlight," states Payten Garcia (10).
The crowd hyping up the performers enhanced the spirit in the rally. Making all the work put into the performance worth while.
"My favorite part of performing would be, the adrenaline and the lead up to the performance especially with when there's a big crowd and the energy the crowd gives out," said Aliyah Rameriz (10).
Leadership had also put together many enjoyable games for the school to partake in. Such as finish the lyric, musical chairs, and even a body surfing race.
"The body surfing race was really funny to watch, I kind of wish I could have been a par of it since everyone seemed to be having such a great time during the game," says Nathan Jones (10).
The highlight of the rally had been the students and staff being able to take a small break from the stress of studying for finals week, and to be able enjoy themselves.
"Being able to just sit and watch people have fun because when you're watching people have fun then you're gonna have fun," Makenna La (9).
Winter Rally was a delightful event for the school to support Averie's Make-a-Wish, to watch incredible performances, and entertaining games. Allowing everyone to distract themselves before finals.